AUGUST 28, 2023
BY STORY BOX LIBRARY
Try the new story writing series transforming young readers and writers across the country
Story Tools is the new story writing series from Story Box Library helping young writers enter the world of story creation and develop their own writing skills!

Featuring video lessons hosted by kids' favourite Australian creators, such as Heidi McKinnon, Claire Saxby and more, diverse Australian book creators share their own storytelling tips with practical ideas for children to create their own stories.
Ideal for middle-to-upper primary age children, each video lesson also comes with downloadable worksheets that can be incorporated into your public library programs, such as school holiday events, after-school writers' workshops or as part of a library writers' festival.
Story Tools features engaging and creative lessons on every aspect of storytelling, from story craft, character creation, illustration, genre and more.
"For writing programs, libraries are looking to engage kids in writing, encourage the idea process, plus engage kids in reading and how language works. Since kids have to sign up to join a writing program at their library, you're already working with kids who like writing, not reluctant writers. There's a bigger focus on how to grow as a writer than encouraging kids to write."
- Samera, Children's & Youth Librarian
Try a free Story Tools lesson, giving you access for as long as you need to our first ever Story Tools lesson from Series 1!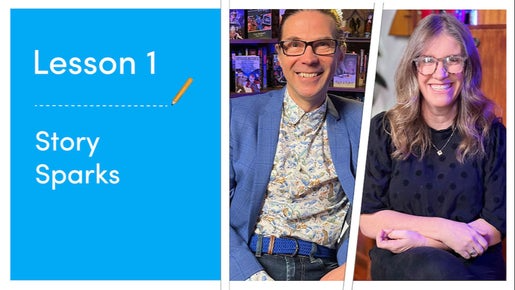 Hosted by award-winning authors George Ivanoff and Nova Weetman, Lesson 1: Story Sparks introduces young storytellers to the idea of story inspiration, and some of the methods and techniques that writers use to find story ideas.
"The authors are fantastic, the content is great, the resources are out of this world…everything flowed really well"
- Emily, Teacher-librarian
Series 3 is set to be released in February 2024, featuring children's book creator favourites such as Shaun Tan, and you can find preview videos for all Series 1 and Series 2 lessons now.
Hosted by author and Story Tools creator Melissa Keil, watch the fantastic panel discussion with award-winning authors George Ivanoff and Nova Weetman, from Story Tools Series 1, plus teachers and education experts Nina Perkinson and Lauren Tomlin, discussing how to nurture creativity in children, with practical tips and takeaways. Watch our Story Tools online event: Building Confident & Creative Writers.
"I love the whole idea of it, and the ease of it…it's such a wonderful asset"
Sally, Teacher-librarian
If you have any questions, or wish to share feedback on your free Story Tools lesson, contact our team at libraries@storyboxlibrary.com.au.

With 24/7 access to a world of stories, it's Storytime, Anytime!